Hood County Clean Air Coalition

Located 15 Miles Southwest of Ft. Worth

FWWR offers Access to Three Class 1 Carriers

The Granbury Resort Conference Center

Beautiful Public Beach

Historic Town Square
OUR MISSION
Hood County Clean Air Coalition
Today's Air Quality
The Hood County Clean Air Coalition is a proactive organization made of businesses, schools, local government, and citizens whose goal is to promote clean air in Hood County, Texas. We recognize the dangers that high ozone levels pose to our community, especially for our senior citizens, children, and those that suffer from asthma and other lung disorders. We will work with local, state, and national stakeholders to identify strategies and solutions to reduce air pollution emissions below the National Ambient Air Quality Standards (NAAQS) of the Clean Air Act.
WEBSITE PREPARED UNDER A GRANT FROM THE TEXAS COMMISSION ON ENVIRONMENTAL QUALITY
The preparation of this site was financed through grants from the State of Texas through the Texas Commission on Environmental Quality. The content, findings, opinions and conclusions are the work of the author(s) and do not necessarily represent findings, opinions or conclusions of the TCEQ.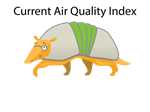 News & Events
Get more detailed air quality information at NCTCOG.org.